Upcoming Events & Open Days
Opportunities To Meet The Team & Gain Valuable Experience
Events & Open Days
Throughout the year we will be attending and hosting a number of events which are designed to provide an opportunity for you to meet the Kirklees & Calderdale SCITT team, ask us any questions you may have about the course we offer and gain additional knowledge and experience to help you with your application
Below you can find details of our upcoming events and open days. please contact us or use the booking details provided to secure your places ahead of each event. We look forward to meeting you.
Do you want to find out more about a career in teaching?
Join us at one of our events to discover more about a career in teaching through Kirklees & Calderdale SCITT
Monday 9th December
Wednesday 26th February
Monday 16th March
Monday 4th May
SCITT Training Centre, Leeds Old Road, Heckmondwike, WF16 9BB, 5pm – 6pm
This is an opportunity to speak to us face to face about applying for teacher training. The session runs from 5pm with a talk from either our Primary Lead or Partnership Manager. Come join us!
Parking is available on the road outside, please avoid parking in the school car park. Our entrance is to the left of the school car park gates, down a path and a set of steps. There will be a purple flag outside to direct you.
To register your place please e-mail training@kcscitt.com or ring us on 01484 221177 with your name and phase/subject you are interested in.
Other events
Train to teach event, University of Huddersfield
Train to teach event Wednesday 5th Febraury 2020, 3pm-6pm. The event will take place in the Haslett and Lockside Buildings at the University. Staff will be on hand to meet you in the foyer of the Haslett Building.
Teaching Fair, Huddersfield Town Hall
Wednesday 3rd March, 3pm-6.30pm. Come along and meet a large range of providers from Kirklees, Calderdale and Bradford – all offering teacher training for 2020. Talk to trainees and newly qualified teachers about what training is really like and the rewards it brings. There will be people to speak to about how to apply and the financial arrangements.
If you would like to register your interest for the teaching fair please click here or e-mail itt@wyta.co.uk or ring 01484 221177 / 07521 668 300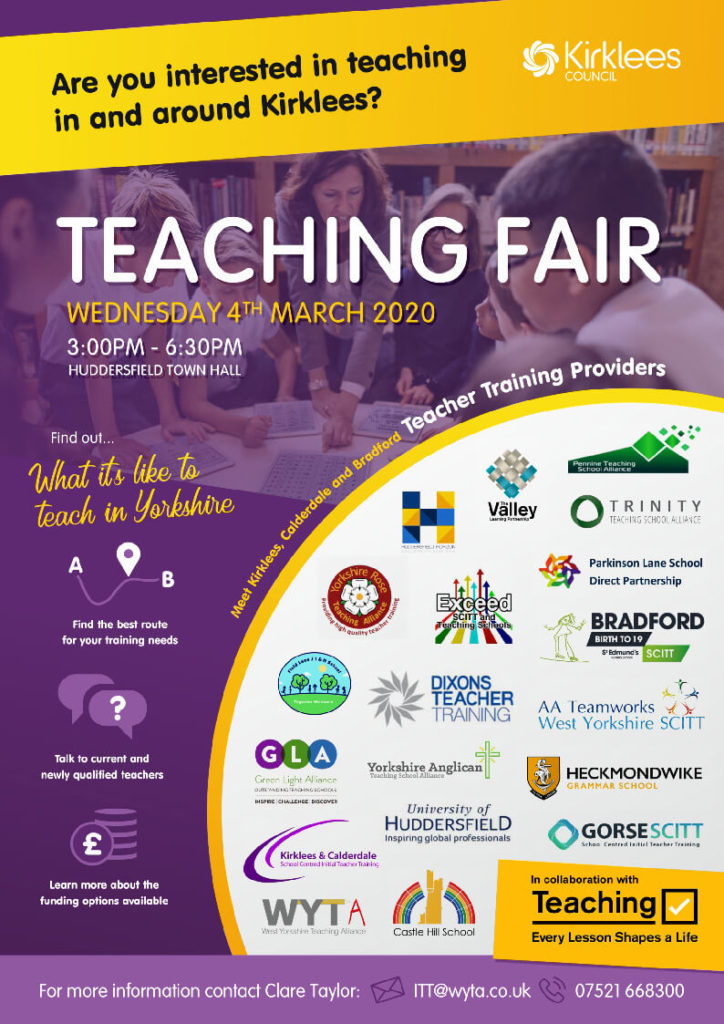 View our events on Facebook